EASY ACCESS KITCHENS

Kitchen Drawers & Pantry Drawer Supply Perth
I
The Kitchen & Pantry Drawer Specialist
Kitchen Drawers & Pantry Drawer Supply Perth
"A Very Helpful Mobile Kitchen & Pantry Drawer Business"
Easy Access Kitchens -

Kitchen Drawers & Pantry Drawer Supply Perth is a locally owned Western Australian business specialising in the supply and installation of kitchen inner drawers and pantry inner drawers

.

We supply kitchen drawers & pantry drawers to all Perth Metro Areas.
You Save Money by not having to replace your existing Pantry or Kitchen Cabinets. "Dont change your doors. Just fit Inner Drawers"
We believe the best way to help you is to visit your home. Everyones needs are different. This helps us to understand what makes it hard for you to access your everyday items in your kitchen & pantry.

Your internal drawers will be custom made to fit your kitchen & Pantry. We use Blum Tandembox Antaro 65kg rated, soft close internal drawers to make your kitchen and pantry easy to access.
Is it hard to see or painful to bend down and reach Into the back of your kitchen cabinets?
We will chat with you about your budget and advise on how many kitchen & pantry drawers you may need for your everyday kitchenware and food items.
We have dedicated Kitchen & Pantry Drawer Specialists who may suggest alternative ways of using your existing pantry & kitchen so you pay less for your Blum internal kitchen or pantry drawers.
During installation we will fit your internal drawers at the right heights for you to reach. The space between your drawers will be adjusted to suit your kitchenware or pantry items. We are not a stock standard cabinet making business.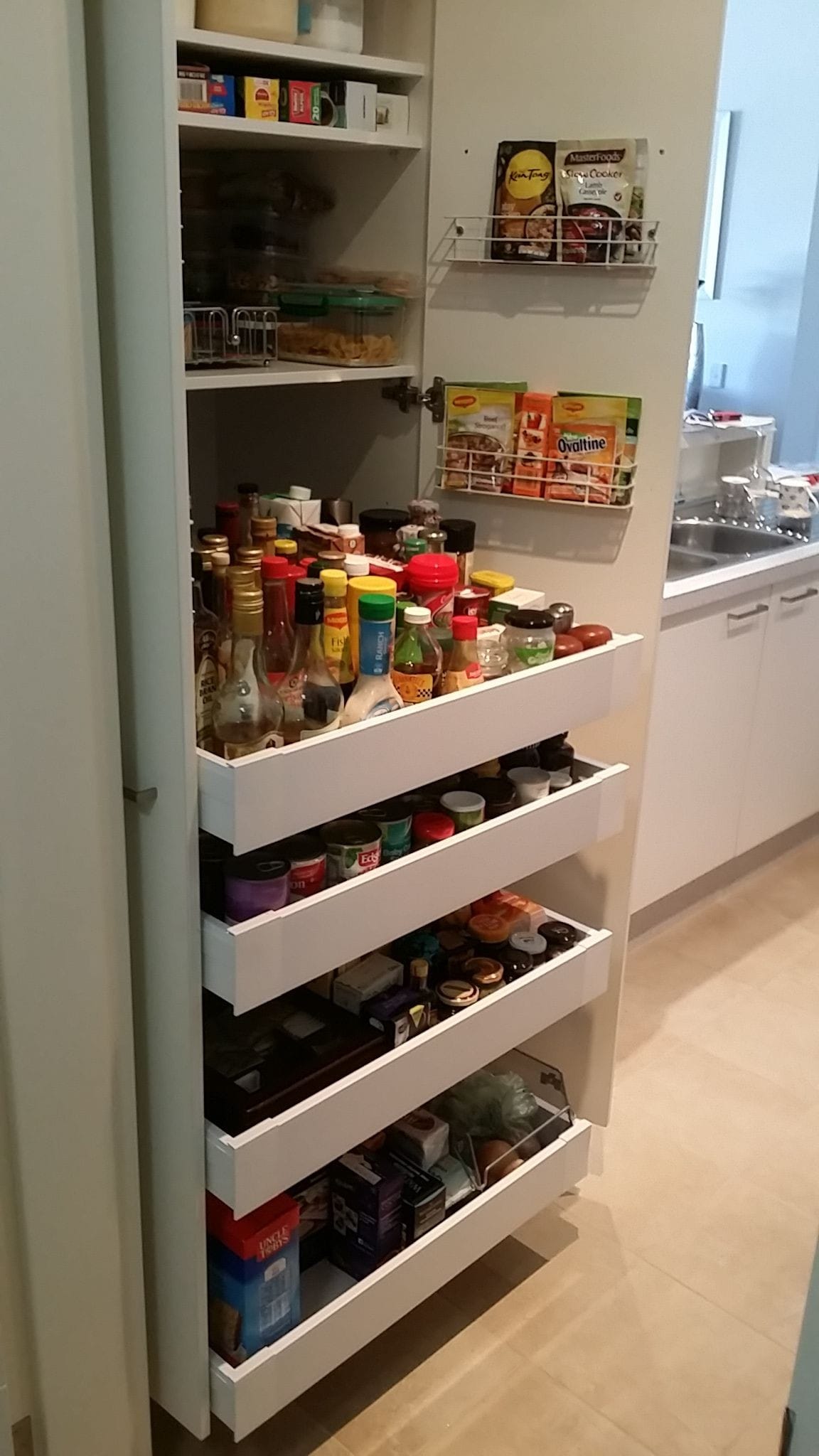 Do you double up on food items when you shop, because it's hard to see what you have?
The same Kitchen & Pantry Drawer Specialist will measure your cupboards, manufacture and install your kitchen or pantry drawers.

Our theory is that you can always add more drawers at a later stage, because one drawer may be all you need, to make your everyday kitchen or pantry items, easy to access.

Before leaving your home our kitchen & pantry drawer specialist can help you load up your new drawers so your are organised before they go.

We can supply a range of Corner pantry drawers, pull out pantry shelves and wireware corner storage solutions for corner kitchen cabinets.
Do you have to get down on your knees to reach into your corner cupboards?
Pantry Internal Drawers (pull out pantry drawers) are perfect for accessing all of your loose cans and hard to reach bottles and jars. Maximising your storage space in you existing pantry & kitchen cabinets.
Save the cost of fully renovating your kitchen and pantry with custom made kitchen and pantry drawers. Helping you to stay at home longer.

Call Easy Access Kitchen Today!
Helping our customers to have Easy Access kitchen & pantry cupboards.

"Brett was so helpful in fitting and installing my internal drawers. I think he really wanted to stay and pack all the items back to make sure I did it properly! He is very professional and a very nice person."

"Brett was extremely helpful and the work was of top quality. He goes above and beyond to help not only install your internal drawers, but to help you rethink how you use your kitchen!"

"Absolutely thrilled with the service and the end product. Brett was a delight to work with and he really has a knack for organising your completed pantry. Would thoroughly recommend him."
Contact

Easy Access Kitchens For Your Blum Internal Kitchen & Pantry Drawers.
Please explore our website to learn more about our Kitchen Internal Drawers, Pantry Internal Drawers and Corner Storage.